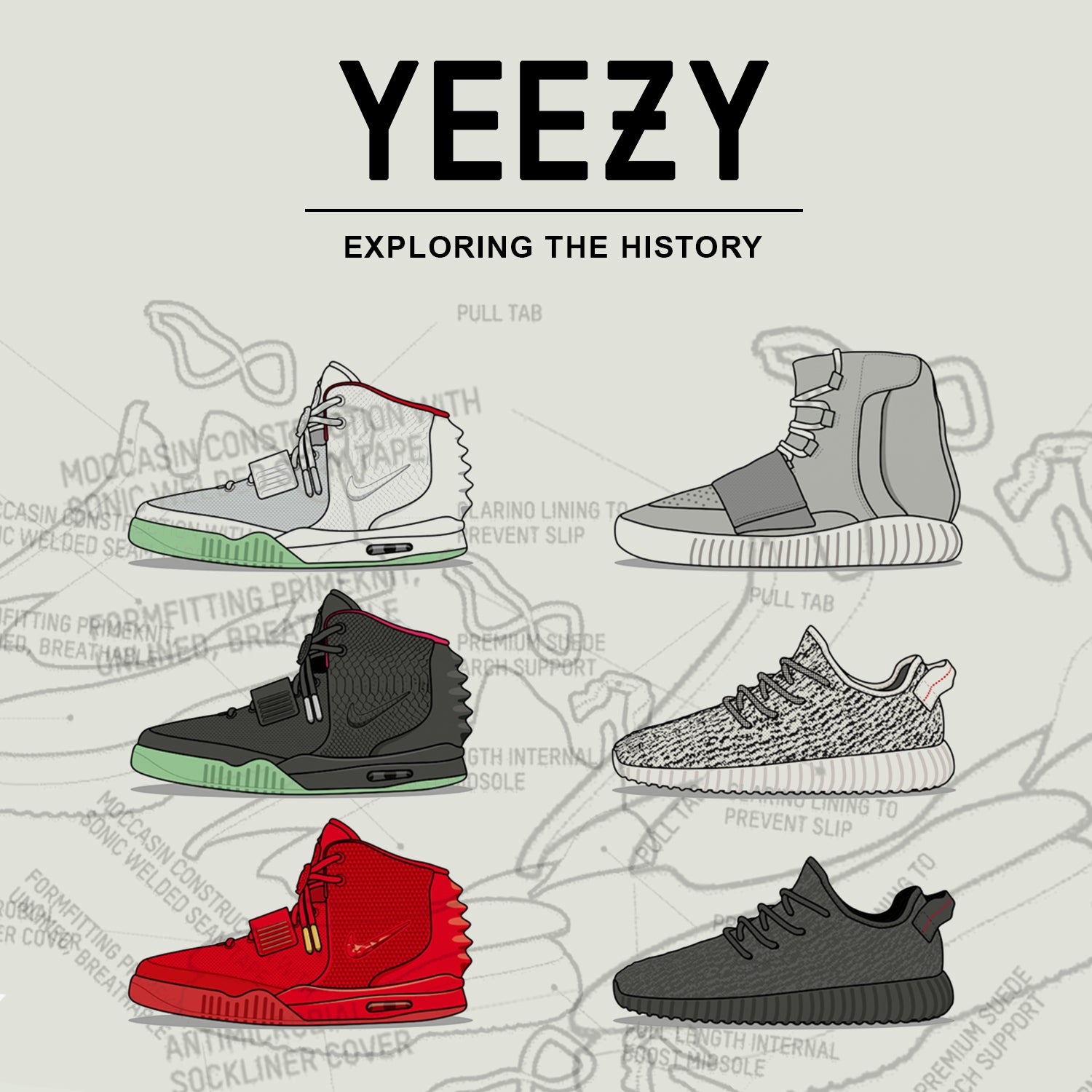 Very seldom do you find an individual that can dip his toes in multiple aspects of society such as footwear, apparel, music, and running for the presidential election all at once and that man is none other than Kanye West. 
In one of his tracks from his "The Life of Pablo" album, Kanye makes the statement, "Yeezy, Yeezy, Yeezy just jumped over Jumpman". While opinions and answers may vary to that statement, there is no doubt that he truly transformed the sneaker game with his various line of Yeezy Sneakers. This blog provides readers with a brief history as to how it all started for Mr West.
If one has to go to the annual Sneaker Exchange event across the various the cities in South Africa, one will undoubtedly come across a pair of Adidas Yeezy Boost. But surprisingly enough, the ever so famous line of Adidas Yeezy shoes was not Kanye's first. Going back over a decade, it all kicked off in 2006 with the Kanye West x BAPE "Dropout Bear" Bapesta.
Unlike Kanye's extravagant style nowadays, he actually wore some pretty colourful outfits around this time. This was perfectly reflected on his critically acclaimed "Graduation" album cover of 2007, which featured a slew of hypnotic colours. Designed in collaboration with Japanese streetwear label A Bathing Ape, the ultra-limited sneaker was actually referenced in "Stronger", with the verse being, "Especially in my pastel, on my BAPE shit."
Not long afterwards, we would then see a second line of the Yeezy's sneakers, however this time around it was a much more luxurious and high fashioned approach as he was given the chance to collaborate with Louis Vuitton. Ye and Louis V worked on a trio of vastly different silhouettes, with all three sneakers being named after people who were close to Kanye at the time.
The first sneaker to come out of the collection, dubbed "Don", was named after Don C, who was on one hand a DJ and on the other Kanye's tour manager. Featuring a low top silhouette, the "Don" was released in three distinct colourways, including a bold red one, a colourful iteration, and a black and white version. Each shoe featured a large padded heel and a clean design that was constructed from premium materials.
The second sneaker, "Mr Hudson", was named after Benjamin Hudson McIldowie, who is better known by his stage name Mr Hudson. He signed a record deal with Kanye's GOOD Music label and was subsequently featured as a prominent composer on 2008's Heartbreak album. Resembling a slipper or a boat shoe, the sneaker was released in a duo of colourways including an all-white version and a grey and pink version. It also featured the large padded heel seen on the "Don".
The third and final sneaker that was released as part of the Kanye West x Louis Vuitton collection was called "Jasper", named after Kanye's barber Ibn Jasper. The design of these kicks were a stark departure from Kanye's other LV designs, featuring a high-top silhouette that made use of a pair of chunky straps that wrapped around the shoe. Made available in three colourways, including an off white one, a grey and pink version, and an all-black iteration, the "Jasper" was without a doubt the most sought-after sneaker that came out of the collaboration.
Not long after the LV Collab, came the Air Yeezy era with Nike. The Nike Air Yeezy debuted at the 2008 Grammy Awards, and featured a blacked-out colourway paired with a translucent sole unit and a bright crimson lace lock. This sneaker had the sneaker community buzzing, and many believe that the Air Yeezy was the foundation that the hype beast culture is built upon. Although the Air Yeezy "Grammy" was never released to the public, it paved the way to the Air Yeezy I which dropped in three different colourways and featured the strap that could have been inspired by the "Jasper".
Three years had passed, and we finally got the release of the Air Yeezy 2. Taking the idea of the original Air Yeezy and turning it into a more casual sneaker, Kanye created a shoe that was similar but not quite the same. Featuring a technical strap across the upper, the Air Yeezy II adopted a spiky heel counter. The Air Yeezy II released in two different colourways, namely "Platinum/Wolf Grey" and "Black/Solar Red".
There were multiple rumours of a third colourway to release but that only materialised two years later with the Nike Air Yeezy 2 Red October. By far the most exclusive out of all of the Air Yeezy's this shoe is now fetching well over the R60,000 mark. Not only was the "Red October" pure fire, it also marked the end of Kanye's collaboration with Nike.
In 2015, it was announced that Kanye would be partnering up with Adidas and releasing his line of Adidas Yeezy Sneakers. The reason for Ye's departure from Nike and signing with Adidas was that not only did they offer him royalties from all Yeezy sales, but they also gave him full creative reign.
Not long after the release shock release of Nike Air Yeezy II "Red October", the adidas Yeezy Boost 750 was born. Perfectly blending streetwear with high fashion, the sneaker was released in an ultra-clean grey and white colorway. Adopting an innovative lacing system, the Yeezy Boost 750 sported a zipper on the side and sat atop a chunky midsole which featured adidas iconic Boost technology encapsulated within it for added comfort. Of course, the kicks also made use of Kanye's signature strap which seemed to also be inspired by the Jasper of six years ago, and three more colourways dropped soon thereafter in the form of Triple Black, Grey Gum, and Chocolate.
As a second chapter of Kanye's collaborative efforts with adidas, the Yeezy Boost 350 "Turtle Dove" was launched in the same year. The sneaker featured a low top silhouette and was infused with adidas Prime knit technology for a more comfortable fit. This was further accentuated with the addition of the same Boost midsole that was previously seen on the 750. Many believe that it was around this time that the name "Yeezy" became the epitome of hype. Three other colourways would soon follow the Turtle Dove, namely "Moonrock", "Oxford Tan" and of course, the highly sought after "Pirate Black".
At the end of 2015, Kanye introduced a completely new model with the Yeezy 950 Duck boot as part of his Yeezy Season 1 collection. Focusing on outdoor functionality, the new silhouette was heavily influenced by boots worn in the military. Like the Yeezy 750 and 350, the 950 dropped in a bunch of colourways, including Pirate Black, Moonrock, Chocolate, and the never before seen Peyote.
At the dawn of 2016, the second generation of Yeezy Boost 350s were introduced. Aptly named the Yeezy Boost 350 V2, Kanye took the old 350 design and modified it slightly, with news additions such as a coloured stripe down the lateral side and a beefed-up midsole. The first 350 V2 to drop was the Beluga, which sported a predominantly grey Primeknit upper with a vibrant orange stripe running through it. It also had a unique pattern that was affectionately dubbed zebra stripes and a thick translucent midsole which was unlike anything we had seen before. To add to this, the Yeezy Boost 350 V2 was the first Yeezy to feature the words "SPLY-350".
The Beluga was seen as a highly successful release and not long after we got a fair-share of a plethora of different Yeezy V2 Iterations. Certain colourways were released as region exclusives and Ye decided to include a reflective (3M) version of certain models as well. To date there is well over 20 Yeezy V2 Colourways.
Taking a much different approach to the Yeezy 350 V2, Kanye blessed us with the "dad-shoe" phase. This line of releases included the Yeezy 500 and 700. The new Dad-shoes offered very little to sneakerheads. They got no Boost, no PrimeKnit. And no exclusivity. This led to the Yeezy 500 having little value on the aftermarket. In fact, the most valuable 500 colorway is the OG Blush. 
As we are nearing the fourth and final quarter for the sneaker year, we've had our fair share of new releases as well. Not only did we recently get the Yeezy Basketball "QNTM", but we got Yeezy Slides, Yeezy 380 and the jaw dropping Yeezy 700 V3. We hope you are just as excited as we are to see what Kanye has planned for the rest of the year!
Be sure to follow all of our social media platforms to ensure that you're up to date as to when we drop the latest Yeezy's on our site as we can ensure you that with all these high-heat releases, stock vanishes quickly!