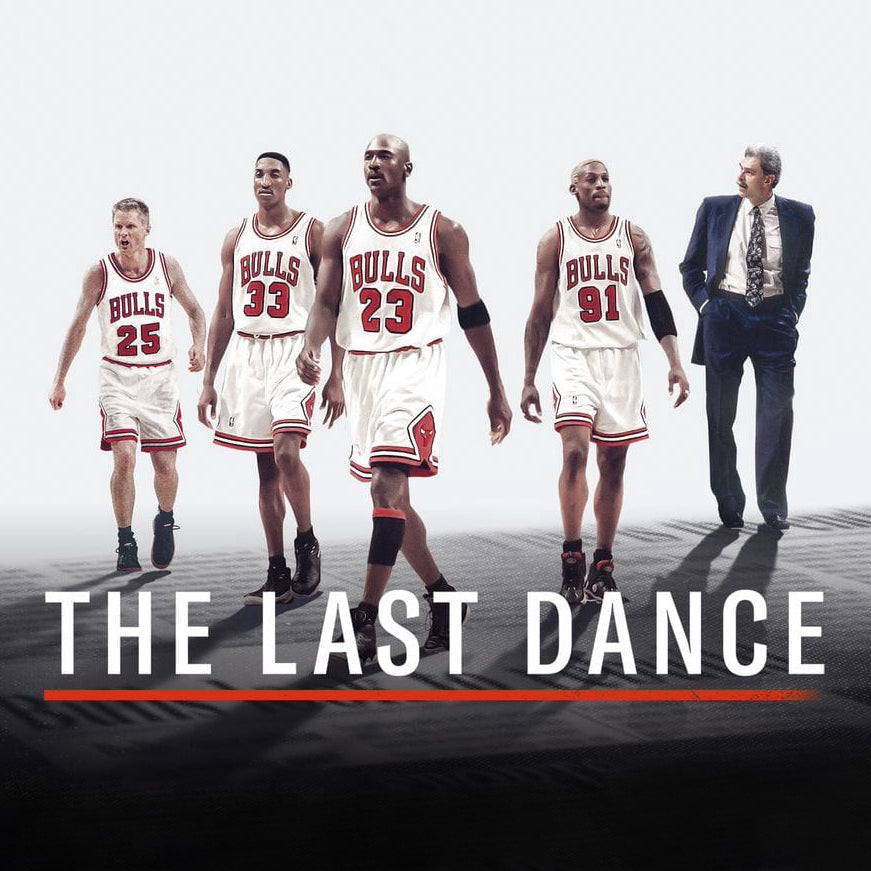 After the airing of the ESPN and Netflix documentary "The Last Dance," sales of nearly every product associated with the six-time NBA champion, Michael Jordan, are soaring to new heights and that includes his Nike and Jordan line of sneakers. 
In an online auction at Sotheby's, an autographed pair Air Jordan 1s sold for a record $560,000, setting the new world auction record for any pair of sneakers and attracting bidders as young as 19 years old. A bidding war in the last 20 minutes drove up the Jordan shoes' price by $300,000, and the $560,000 sale more than tripled Sotheby's high estimate of $150,000.
1985 Chicago Air Jordan 1s: Sotheby's
The Last Dance celebrates Michael Jordan's most documented season as basketball's biggest star. It also illustrates the birth of Jordan Brand through MJ's style on and off the court. The show had a staggered release with all 10 episodes being released over the space of 5 weeks, resulting in 2 episodes a week. 
While the history of Air Jordan debuts, player exclusives and performances have been shown elsewhere, The Last Dance documents a specific period of on-foot highlights and heroics, as an homage to MJ's past, ascent and future.
Rotating models more than ever and always rising to the occasion, MJ transitioned from Air Jordan to CEO Jordan. Seeing the timeless classics and rare Air that he rocks in The Last Dance is colourful, captivating and inspiring.
The Last Dance: Basketball Forever
Air Jordan's are hard to come by in normal times, let alone while everyone is stuck at home talking about Michael Jordan and the Bulls with the fever of ESPN's "The Last Dance". Many sneakerheads and collectors began to appreciate their collections more as this series provided insight as and history into the worldwide Jordan brand. 
Air Jordan's have made a lasting impression on the legacy of Michael Jordan and in the final season with the Bulls, it made its deepest marks as Michael branched off from Nike to form Jordan Brand.
Jordan 1 Chicago
Nike Air Jordan 1 Retro "Chicago":Stockx
The first ever Air Jordan to release was an Air Jordan 1 in what we now know as the "Chicago" colourway. This sneaker came dressed in a red and white leather, which resembled the the Chicago bulls' colours, hence the name "Air Jordan 1 Chicago".
The sneaker was part of a signature line that Nike created specifically for Jordan in order to persuade him to sign a sneaker deal with them, instead of with other sportswear rivals, Adidas or Converse.
In 1985, Nike took a very creative approach to marketing, claiming that the shoe was banned by the NBA when in fact it was the Air Ship that originally garnered the warning from the league for violating the league's uniform policy. In response to this, Nike used this news and turned it into one of the greatest marketing campaigns to date.
Nike Air Ship: Hypebeast
An ad was created featuring Michael Jordan as he stares at the camera and bounces a basketball in place as the camera pans down to his feet. Censorship bars are superimposed over the sneakers and a voice says, "On Sept. 15, Nike created a revolutionary new basketball shoe. On Oct. 18, the NBA threw them out of the game. Fortunately, the NBA can't stop you from wearing them."
The ad went on to be a major success and resulted in sales of $126 million in its first year, Jordan says in the documentary.
 Price of Jordan's now
Jordan 1s released for $65 back in 1985 and that is not even half of the price if you want to pick up a pair today. Current retail prices now range between $170-$225.
Ever since The Last dance Aired globally, there has been a sudden and unprecedented spike in the prices of Air Jordan 1s, most notably of the OG colourways like the Chicago.  According to Stockx, a platform for members of the sneaker community to buy and sell sneakers, between January 1 and the premiere of the series on April 18, 217 pairs of the 2015 Air Jordan 1 'Chicago' were sold for an average price of $925.
Jordan 1 Chicago prices: StockX
In the two weeks since the series first aired on April 19, 60 pairs of the model were sold at an average price of $1,241.
It isn't just the 1s which are growing in value; the price of many other Air Jordan's has risen since the show's release between  April 19 – May 17, 2020.
These days when retailers release Air Jordan 1's, there are some who start queuing in the early hours of the morning to guarantee their pair. If one is unable to land an Air Jordan 1 for retail, then you would need to resort to paying a resell price of anywhere between R3500 – R10000 depending on the colourway, demand and stock level.
Much like the stock market, the sneaker market reflects real-world events. When Kobe Bryant died in late January, the former LA Lakers star's line of sneakers rocketed in value. Some "Kobe's" that had previously been worth a few hundred dollars suddenly were being sold for thousands of dollars.
The sneaker resell market is now the biggest it's ever been, by far thanks in part to the Michael Jordan documentary The Last Dance. Unlike other fashion items, sneakers are a collector's item and can go up in value overnight.
As mentioned in the beginning, with the price and value of sneakers skyrocketing and growing exponentially, we highly recommend buying your grails or the pair you've had your eye on as soon as possible as trends appear to indicate that they are bound to increase in price. Be sure to check out our products here as we can ensure you that it won't be long before that colourway you had your eye on is sold out! Also be sure to follow us on all of our social media platforms so that you can always be up to date and first to know when the next big drop is. Take care and stay safe!