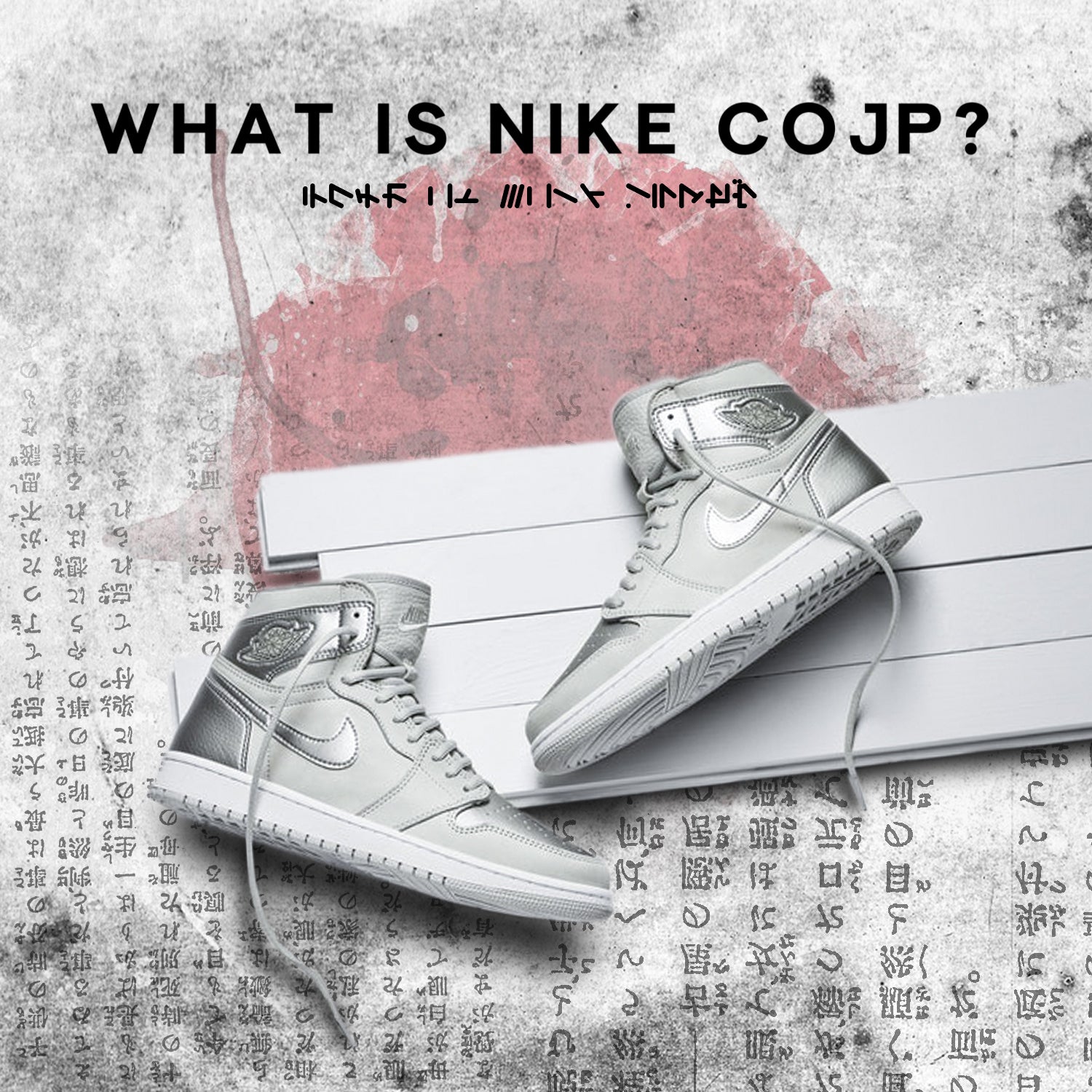 If one has to ask any Nike aficionado about what they think one of the most successful and influential campaigns Nike has had in its history, the Co.JP is bound to pop up a few times. Short for "Concept Japan" and what was once the URL for Nike's Japanese website, Jeff Staple and many other key Nike Sneaker figures are of the opinion that the CO.JP project helped outline and lead the way for many of today's collaborations between designers and brands. Jeff Staple is quoted to have said that "the roots of everything from the "drop" model to the Nike SNKRS app can be traced back to it. CO.JP is the architect. If it wasn't for CO.JP, you wouldn't have quick strikes, you wouldn't have segmented distribution, you wouldn't have Tier Zero releases, you wouldn't have SNKRS."
Originally starting in the mid 90's and then moving into the 2000's, the CO.JP campaigns started out and released exclusively to certain Japanese retailers in a quite strange and obscure fashion. Jeff Staples goes on to explain this by saying, "What served as the true germination for CO.JP were shop-exclusive SMUs (special makeups). In the '90s and early '00s, Nike sales reps in the U.S. and Japan would often let shop owners request custom shoes. That's how these regional exclusives were made. Say you're a buyer and you're like, 'Hey, I want this shoe, but I want it in all red. If you do it in all red, I'll order 10,000 pairs.' Nike sales reps would be like, 'F*ck, let me call up Beaverton and get these pairs made so I can get an order."
Jeff Staple: Art-Start
These Japan exclusives then garnered mass attention and what was then seen as Japan exclusives, slowly started making its way abroad to various cities across the US, UK, France and many more.
There are many sneakers today that come out of the CO.JP project which many sneakerheads regards and consider to be gems and grails. A big year for the CO.JP project was definitely the year 2001. That year saw the release of some of the most famous CO.JP shoes being the Air Force 1 "Linen," a crisp, summery sneaker that melds buttery tan leather with sweet pink Swooshes and the Air Force 1 "Cocoa Snake," a luxurious reptilian style, both of which saw a release in 2001. That year also saw the release of the Air Jordan 1 Japan which was only released in 2001 pairs, the same number of pairs to match the year number.
Air Force 1 Linen: KITH/TYLER MANSOUR
Atmos founder, Hommyo Hidefumi ,was one of the first people in acquiring US store exclusives (SMUs) and selling them in Japan through a store called Chapter which he ran before he founded atmos. After the opening of the first Atmos store, SMU's and shop-exclusive releases fully evolved. Hidefumi's diverse and extensive selection of SMUs at Chapter opened up an entirely new world of possibilities.  Nike's Japanese employees would often stop by Chapter to bolster the company's archives.
Hommyo Hidefumi: Zimbio
What Hidefumi's was doing in the U.S., other early resell entrepreneurs were doing in Japan. "Very few of the early sneaker heads knew about Co.JP. A store on Lafayette Street in New York named Clientele carried some styles, and a man named Damany started an eBay account called Vintage Kicks USA that eventually evolved to become Flight Club" says Jeff Staple.  
Soon after this, the CO.JP project started expanding worldwide, serving as a pioneer to Nike's ultra-limited Tier Zero stores. Nike decided that it would soon not only be Japan receiving Co.JP shoes and decided to expand its reach to other highly regarded tier zero stores across the world.
Many go to the lengths and consider the CO.JP project to be beginning of what we know today to as reselling. Many consider the CO.JP project to have also laid down the foundation for one of the world's biggest boutique stores such as Atmos, as well as aftermarket operations such as Flight Club.
Not much is known as to how the CO.JP project came to an end as the project was never officially declared done or to be discounted. However, we did see a slow decline and eventually a halt in the number of pairs being releases as we entered into the 2010s.
In an attempt to revive what was once an outstanding era for the sneaker world, Head of Kith, Ronnie Fieg has decided to pay homage to the CO.JP project by making the release of his upcoming KITH x Nike Air Force 1, a Japan exclusive release, to celebrate the opening of his new store in Tokyo.
Nike has also decided to bring back certain pairs that initially released in highly limited quantities through the CO.JP project. The two most recent pairs to see a worldwide re-release is the Nike Dunk Low "Samba" and the Nike Air Jordan 1 High "Neutral Grey/Tokyo".
Nike Dunk Low "Samba"
Nike Dunk Low Samba: asphaltgold_sneakerstore
Nike Dunk drops are becoming a regular occurrence in 2020. Having come back in a big way thanks to Virgil Abloh and Travis Scott, the classic 1985 silhouette has become a staple in the sneaker calendar. Over the past eight months, we've seen a number of iconic Nike Dunks come back. Whether it's the "Plum," "Kentucky" or "Syracuse," Nike has ensured that there's been something for everyone. Thankfully, it looks as though we'll be seeing the return of another iconic colourway this week: "Samba."
Originally released back in 2001, the "Samba" Nike Dunk was part of the CO.JP exclusive era. 19 years later and Nike has brought the sneaker back and maintained its true OG form. Seamlessly blending silver, red and blue together, the shoe adds a splash of early '00s style to the mix. Subtle details such as the carbon fibre effect on the Swoosh add an understated texture to the mix and is perfectly contrasted by a crisp white midsole and matching white laces. We received a minimal amount of stock for this release so be sure to grab this classic before it sells out. Shop here.
Nike Air Jordan 1 "Tokyo"
Nike Air Jordan 1 "Neutral Grey": sneakerpolitics
Originally released as a Japan-exclusive almost two decades ago back in 2001, this coveted sneaker has just seen a global re-release.
Crafted from a multitude of materials in a variety of shades, the "Neutral Grey's" toe box, ankle, and Nike Swoosh are all done up in "Metallic Silver" accents, while the rest of the upper is dipped in a clean white hue that'll be perfect this summer.
Behind the tongue, you'll find "2001" printed one as a nod to the shoe's original release date and the year that Jordan Brand added non-original colours to Michael Jordan's signature shoe, and to round it all off, a pair of custom insoles that read "CO.JP" feature within.
Crafted from a multitude of materials in a variety of shades, the "Neutral Grey's toe box, ankle, and Nike Swoosh are all done up in "Metallic Silver" accents, while the rest of the upper is dipped in a clean white hue that'll be perfect this summer.
Be sure to grab this pair while it is still available as stock is highly limited. Shop here.