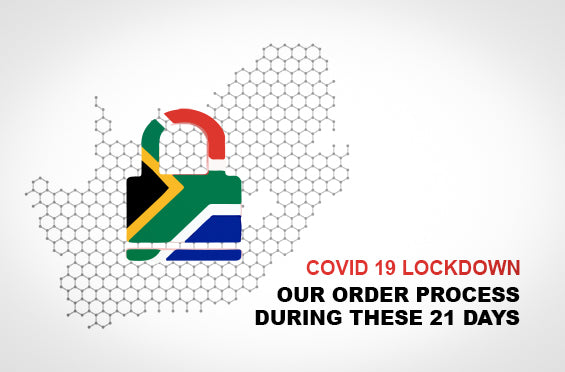 The Corona Virus (COVID-19) global pandemic that has been affecting most parts of the world has reached a tipping point here in South Africa. After seeing what it has done in many other countries we can learn from it and do our part in reducing the spread of COVID-19 through social distancing and isolation as far as possible. 

As you all know... the South African Government has declared a nation wide lockdown as of midnight on 27 March 2020. We are fully in support of this and although we may be an essential service to most of you, the lockdown regulations will be affecting us all in some way or another and we will all need to do our part in flattening the curve and preventing the spread of COVID-19.
Order Processing  

Orders placed via the website will be allowed but will only be processed and shipped after the lockdown period. 
Orders can also be placed directly with us via DM on our Instagram page. Orders will be confirmed once a 50% deposit is paid (EFT). The balance can be paid once we are ready to ship your item after the lockdown. All orders placed via DM will be shipped at no additional cost. 

As always all our stock is limited and we cannot guarantee or reserve any stock without receipt of full payment (via the website) or 50% (via IG DM). 
We wish you all strength during this testing time, be safe, stay indoors and help our nation reduce the spread of the Corona Virus.
P.S. Happy Air Max Day !
Best 
The Limited Run Team